When you're constantly on the go and interacting with people, hygiene and personal appearance should be one of your top priorities. People use a slew of personal products to be clean and presentable and feel good in their daily lives, and it shouldn't be any different when you're traveling.
You wouldn't want to have that "my flight is delayed so I'm stuck at the airport" type of look, or have your breath smell like garlic bread.
Clothing and gear may reign supreme in packing lists, but small items like toiletries are also crucial for looking and feeling your best no matter where you are.
We've compiled some essential toiletries and personal items for travelers who want to look their best on the road.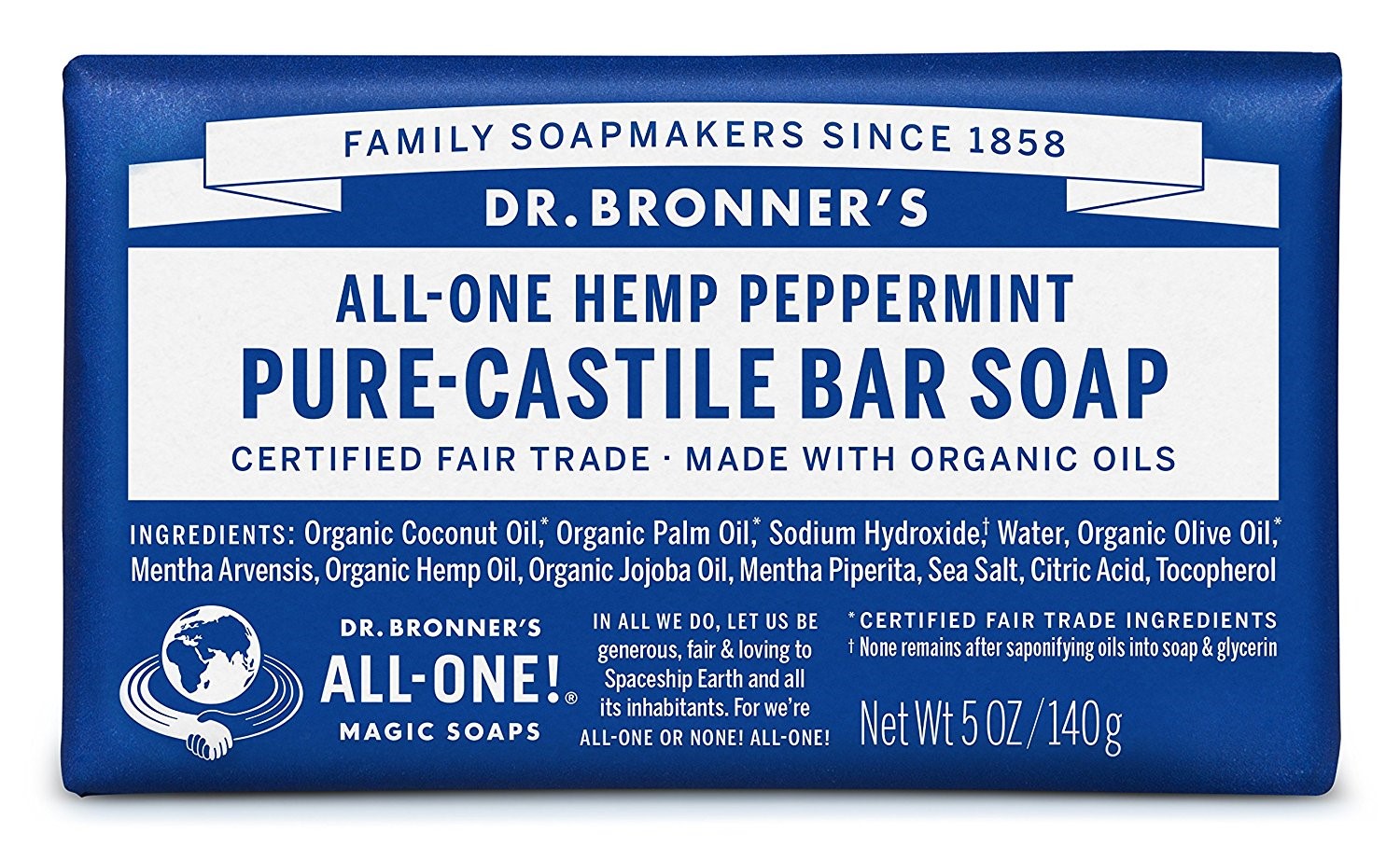 Body Wash
When it comes to body wash, we highly recommend solid bar soaps rather than the liquid ones. Because
it saves more space

you don't have to worry about it spilling in your bag due to cabin pressure

solid items aren't under the same carry-on restrictions as liquids.
Dr. Bronner's Pure-Castile Bar Soap is a hypoallergenic, moisturizing bath soap that can double as a facial scrub. They also have convenient 5 oz.-sized bar soaps that save all that precious luggage space. Dilute it in water and you'll have a liquid laundry detergent.
Quite a flexible little thing, isn't it?

Shampoo and Conditioner
As we mentioned earlier, when it comes to packing and [air] travel, solids are better than liquids. Along those lines, we're recommending a shampoo/conditioner bar pair that's perfect for all sorts of travel.
The Coconut Lime Shampoo & Conditioner Bar is an all-natural product made from high-quality ingredients to keep your hair healthy and smelling and looking good.
Just soak your hair in water, and then you can either lather the shampoo in your hands or massage it directly into your hair.

Toothpaste
Yes, tablet toothpaste is a thing, and it's perfect for people who want to travel with minty breath and whiter teeth! This innovative product from Lush is the answer for people who are looking for alternatives to the traditional toothpaste packaged in tubes.
To use these, just chew one tablet, swish some water around in your mouth, brush well, and rinse thoroughly afterward.
The texture feels a bit weird at first, but other than that, it's a really great product and a perfect alternative to the traditional toothpaste.

Disposable Toothbrush
When opting for a disposable toothbrush, function and fashion should still go hand-in-hand.
This disposable toothbrush from Purity is made out of biodegradable materials so you don't have to worry about throwing away rubber or plastic.
The bamboo handle has a great ergonomic design for better handling, and the charcoal bristles add antibacterial and antifungal protection each time you brush your teeth.

Sunscreen
Just hearing the word "sunburn" makes you leery to even head down to the beach. That's why an effective sunscreen should always be on one's packing list before traveling.
The Neutrogena Ultra Sheer Face & Body Stick Sunscreen is one of the best brands out there for jetsetters who enjoy hot and sunny adventures.
When using a sunscreen stick, it's hard to tell if you missed a spot, so make sure to apply it evenly and generously to prevent sunburns that might blotch your skin.

Lotion
Nobody wants dry, rough skin, especially while traveling. And for silky smooth skin, some lotion should always be within reach.
The Bee Bar Lotion from Honey House Naturals is the ideal lotion to tuck into a bag or backpack.
This non-liquid lotion is just like the ordinary lotions you have at home but with Bee Bar, you won't have to worry about it leaking in your bag and ruining all your stuff (despite its pleasant smell).

Disposable Razor
Instead of buying luxury razors that you might end up forgetting in your hotel room, opt for a disposable one. I know, most disposable products don't have the same quality and features as the expensive ones, but not so with the Truman.
The Truman features five sharp razor blades, a heavy-duty rubber handle, and a flexible hinge for smooth shaving. You can have all that for a fraction of the price of other luxury razor brands.

Shaving Cream
After showing you the ideal razor for traveling, you'll need a shaving cream to pair with it! Proraso Shaving Cream is a men's classic.
This classic shaving cream is perfect for any type of skin or beard and gets the job done; the cream lathers up nicely, it has a great smell, and it will also leave you with a fresh-feeling sensation thanks to the menthol mixed in with it.

Wipes
Perfect for the traveling gentleman whose hygiene is a top priority, the multi-purpose One Wipe Charlies should be in every man's bag.
With a peppermint scent and a minty sensation with each wipe, the One Wipe Charlies is worth every penny.

Lip Balm
When you travel to a place that has dry air, or a tropical place where you'll get heavy exposure to the sun, chapped lips are inevitable.
That's why keeping a tube of ChapStick in one's pockets is a smart move for any traveler.

Perfume
Another solid item on our list, the Pacifica Solid Perfume is the perfect travel buddy for female travelers. With its conveniently-sized packaging, you can simply put it in your jacket or bag/purse pocket.
But don't let its size fool you.
The Pacifica packs a lot of fragrance into a small space, so you can use it in small amounts and still smell great.

Toiletry Bag
With all of the personal products we listed, it'd be a lot better to have them organized in a dedicated compact bag for your toiletries and grooming items. You can accomplish this with the Pantheon Toiletry Organizer Wash Bag.
The high-quality waterproof material that the Pantheon Toiletry Bag is made of is durable yet lightweight. It has a lot of room and pockets to neatly organize bathroom and grooming products.
Designed with the traveler in mind, it features a side handle for easy carrying (when you have it outside your bag/backpack) and a built-in hook so you can hang it anywhere.
Bringing out your best self is essential for a fantastic trip to any destination, and the right arsenal of personal products and toiletries will help you achieve that.
Making hygiene a top priority will be doing you and your fellow travelers a favor.