While not impossible, traveling for free can be an extremely difficult proposition – you sacrifice convenience and comfort. For the vast majority of us, money is a necessary ingredient if you want to travel. You need money to eat, purchase plane tickets, and get visas or enjoy certain excursions.
Often, the biggest expenses while you travel come from accommodation – finding places to stay can add up! The first choice for many people is often a hotel stay, which can quickly become expensive.
Fortunately, accommodation is also one of the easiest travel categories to save money in, with several cheaper (or even free) alternatives available! What do some of these include?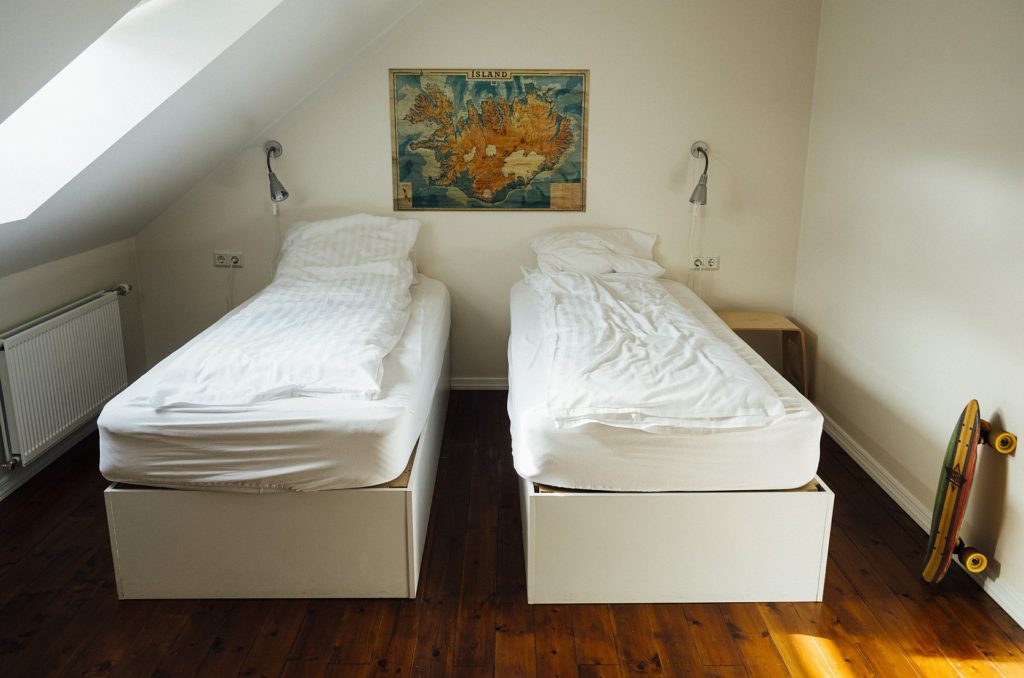 Short-term Rentals
We'll start with a trend that's picked up steam a lot in the past few years: short-term or vacation rentals. While prices on short-term rentals are usually on par with or only slightly cheaper than your typical hotel stay, short-term rentals can be a great alternative because they usually are more personalized and comfortable than a hotel room.
Airbnb is leading this charge with properties available worldwide, but other sites like VRBO, TripAdvisor, Tripping, or HomeAway also offer many short-term rental options.
Hostels
Our second item highlights the most well-known budget traveler lodging choice – the humble hostel. Hostels are often the choice of backpackers and vagabonds the world over, and for good reason. The communal nature of the dorm rooms is ideal for meeting fellow travelers and making friends from all over the world, and beds can be found in many developing countries for just a couple dollars a night.
Sites like Hostelworld list exclusively hostels, and other places like Booking.com have a wide selection of budget hostel options.
You can make a hostel stay even cheaper if you're willing and able to work in exchange for a free bed, which we'll look at more in the next point:
Work Exchange/Volunteer Work
Whether it's at a hostel, on a farm, or at a resort halfway across the world, exchanging your labor for free room and board (and occasionally, meals and a small stipend) is a great way to lower your accommodation costs.
Arrangements like these are often requested and worked out in person; however, useful websites like HelpX and WorkAway offer a database of hosts looking for work that you can connect with for a low annual membership fee. Make sure you're OK with the host's stipulations, and always look at reviews and references to make sure you're getting a reasonable (and legitimate) deal.
Volunteering, while similar to work exchanges in that it often includes a few hours a day of unpaid work for a place to stay in return, focuses more on the social and community benefits of said work.
A well-known example is WWOOF (World Wide Opportunities on Organic Farms), a program in which volunteers provide 4-6 hours of work per day in exchange for food and accommodation from the host. Or if you're more into helping conservation efforts, you could even join teams that help endangered turtles.
Camping
Camping is the best option for nature lovers on a budget. It's usually free, but there are a few instances where you may have to shell out a few dollars to rent a campsite.
Camping is a wonderful way to both save money and have the great outdoors at your doorstep, and it's easier than ever to do nowadays with all the ultralight tents on the market that you can carry with your baggage without adding too much weight or bulk.
Couchsurfing
Since the dawn of the Internet, people across the globe are now ore connected than ever – and many use the Web as a tool to find unique accommodation opportunities. One prime example of this is Couchsurfing, one of many "hospitality exchange" websites in which locals open up their couches (or rooms, apartments, or homes) to foreign travelers.
Other examples are WarmShowers for traveling cyclists; Trustroots, which targets hitchhikers and nomads; or alternatives like BeWelcome or Staydu, which work similarly to Couchsurfing.
Not only can hospitality exchanges like these be a great way to have a free place to stay, it's an invaluable resource for connecting to the local life and getting to know a place more authentically.
Just remember to find a way to give back or pay it forward! Free is great, but nobody likes a mooch.
House Sitting
House sitting is considered by many seasoned travelers to be the pinnacle of free accommodations while on the road. Maybe not everybody makes a life out of travel, but the vast majority of people take vacations and have to leave behind a house and perhaps some pets when they go.
That's where you come in.
It's common for homeowners to request a house sitter for them while they're away, which can involve basic cleaning and maintenance work or pet care while you hold down the fort. You can find listings from hosts around the world on websites like HouseCarers, Nomador, and Mind My House, and you can apply to these listings once you've paid the low annual membership fee.
Anything else?
There are a few unconventional accommodation options that you may not have thought off right off the bat.
Monasteries and convents often offer shelter and basic meals for transient travelers.
If you're a homeowner, there are home exchange programs in which you stay in someone else's home and open up your home for them to stay in in return, all for free.
Yes, it's possible for anybody to save a few dollars on the road and quite possibly have a more unique travel experience along with it if they're simply willing to do a little research and perhaps some work.
What's been the most interesting way you've found accommodation on the road?