The holidays are a time of giving and sharing. They also represent the time of year when we are getting ready to say goodbye to the past and welcome in the new year. With the turn of the calendar always comes some New Year's resolutions.
One of our favorite resolutions to make get us out and experience more of the world through travel.
These gifts are perfect for the frequent traveler, or someone with such a bad case of wanderlust that you know it is just a matter of time before they take off on their own adventures. Check out our choices for travel gifts we know they'll love.
Bose QuietComfort 35 Noise Canceling Headphones
Whether your traveler is just looking for a little more peace and quiet, or they need a device them helps them tune out background noise for important calls, these QuietComfort Headphones by Bose are sure to be an appreciated addition to their travel arsenal.
These wireless, noise canceling headphones allow the wearer to adjust the level of cancellation to suit their needs or the environment. And as always, Bose provides exceptional sound quality, making it possible to truly relax and escape into their music.
Sim4Globe Prepaid International SIM Card
Don't let lack of coverage put a damper on your favorite traveler's adventures. Give them the gift of mobile coverage in over 190 countries. With this sim card they will automatically be connected to the provider with the best coverage, no matter where in the world they are, with their unlocked GSM phone.
SOKOO Solar Charger
The very nature of travel and adventure means you never know just where you might end up. This also means sometimes finding yourself in unexpected situations where you might not be able to charge your devices when they run low.
The SOOKAR solar charger is extremely portable, foldable and waterproof, giving a traveler peace of mind wherever they are. It can even be worn on a backpack while biking or on foot. Also, great for camping and hiking adventures where there is a lack of options for plugging in and recharging.
FOCUSPOWER F10 Mini Bluetooth Earbud
This small, hidden Bluetooth earbud is perfect for the life of travel. It easily connects to two separate mobile devices at one time, is discrete and has one of the longest battery lives of 6-8 hours of talk time.
This gift is perfect for travelers who frequently use Bluetooth technology, but want an earbud that offers extended life and comfort for those extra-long trips.
SteriPen Ultra UV Water Purifier
Water is the most widely consumed beverage in the world, but that doesn't mean that all of the world has safe, clean water. Many traveler's "bugs" often start by drinking unpurified water. Even water that looks and smells clean can contain bacteria that the local population has built up a resistance to but can be devastating to a traveler just passing through.
Protect the health and well-being of your favorite traveler with the SteriPen water purifier. Simply stick in a glass of water and destroy 99% of viruses and bacteria.
HYDAWAY Collapsible Pocket-sized Travel Water Bottle
It is important to stay hydrated while traveling, but sometimes carrying around an empty water bottle can be cumbersome. Enter the HYDAWAY collapsible bottle.
This BPA free bottle folds down so compactly when it is empty that it actually slips easily into a pants or coat pocket. Your traveler will love this compact water bottle as an addition to their travel essentials.
Handpresso Outdoor Espresso Set
There are hidden little corners of the earth where you can find great coffee. There are also plenty of corners where that just isn't an option.
Whether your traveler is heading to a place that isn't known for its great coffee, or heading to the wilderness and wants to enjoy their morning espresso surrounded by the splendor of nature, the Handpresso Outdoor Espresso Kit is the perfect gift for the traveling coffee lover.
Foldable Rain Boots
It's a struggle trying to fit all of the essentials into a reasonable amount of luggage. Any well-seasoned traveler has needed to make sacrifices for the sake of saving luggage space. Now, being equipped for rainy weather doesn't need to be one of those sacrifices.
These full size, foldable rain boots are a traveler's dream. Compact, easy to clean, and the perfect accessory for travel days.
Hidden Pocket Scarf
Give your traveler the ability to keep their belongings safe and secure while being fashionable at the same time. We are pretty sure that the hidden pocket scarf will be more appreciated than a fanny pack.
Stylish and unassuming, this scarf has a hidden pocket large enough to carry all of their necessities, such as a passport, money, phone, medications and hotel key cards. Plus, it carries it all without looking obvious or weighted down.
Earth Pak Dry Bags
A true traveler never knows exactly where the adventure will take them, so they should always be prepared. This compact, foldable dry bag lets your traveler carry on in the adventure without worrying about dodging the sudden rainstorm or missing out on an impromptu kayak excursion.
Earth Pak bags have the best reputation around for being durable, and truly waterproof. They come in different sizes to suit the needs of your favorite traveler, with the larger ones capable of comfortably holding up to 55 pounds of essential travel gear.
The Perfect Travel Companions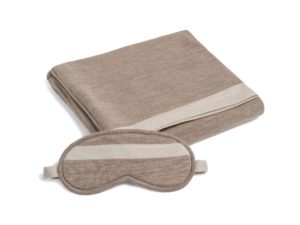 What does a traveler need more on a long flight than the comfort of their own blanket and a soft eye mask? The Parachute Marino Travel set is perfect for finding a bit of comfort and coziness when home is far away. Easily folds small enough to fit into carry-on luggage.
This year find the perfect gift that your traveler will love and actually get some use out of. There is a wide world, filled with adventure out there, waiting for each of us. Each of these travel gifts can make the experience of discovery even more enjoyable.
Happy Holidays to you and everyone on your list this year.
---
Also published on Medium.