Welcome to Chicago, The Windy City!
The major Illinois city, founded in 1833, boasts some unique accomplishments like being the first city to debut an all-color TV station, as well as being the home of the Twinkie.
In more modern times, unfortunately, Chicago has garnered a less-than-stellar reputation as it faces issues such as homelessness, a poor education system, and a high homicide rate. Yes, visiting Chicago may require a bit of discretion and vigilance, but let's turn the discussion around to the positive.
Despite its problems, Chicago remains a highly-touristed city for its culture, arts, and food, reaching a staggering 54.1 million visitors in 2016.
Whether you find yourself in Chicago on a long layover, or Chicago is one of your bona fide main stops and you want to do as much as you can in a 24-hour period, read on to find out some great things you can do in Chicago in a day.
Start things off with a tour
If you're unsure where to start, guided tours can be a great way to hit several major sightseeing stops and points of interest in one quick fell swoop. A great way to do this is on a bus tour.
The city offers several options for these, including the Chicago Crime & Mob Bus Tour and the Chicago City Hop-on Hop-off Tour, both of which are highly rated on TripAdvisor.
Helicopter tours are a great way to get a bird's-eye view of the whole city. Or you can opt for one of Chicago's boat tours, including perennial favorite Architecture River Cruise, a 75-minute cruise that shares relevant and fascinating tidbits on Chicago's most prominent architecture.
Choose a landmark to visit
Chicago has well over 350 landmarks, many of which are included with tours like the aforementioned Hop-on Hop-off Tour. You can't expect to see every single landmark in the city within a day or even a week, but here are some of the can't-miss major ones to check out: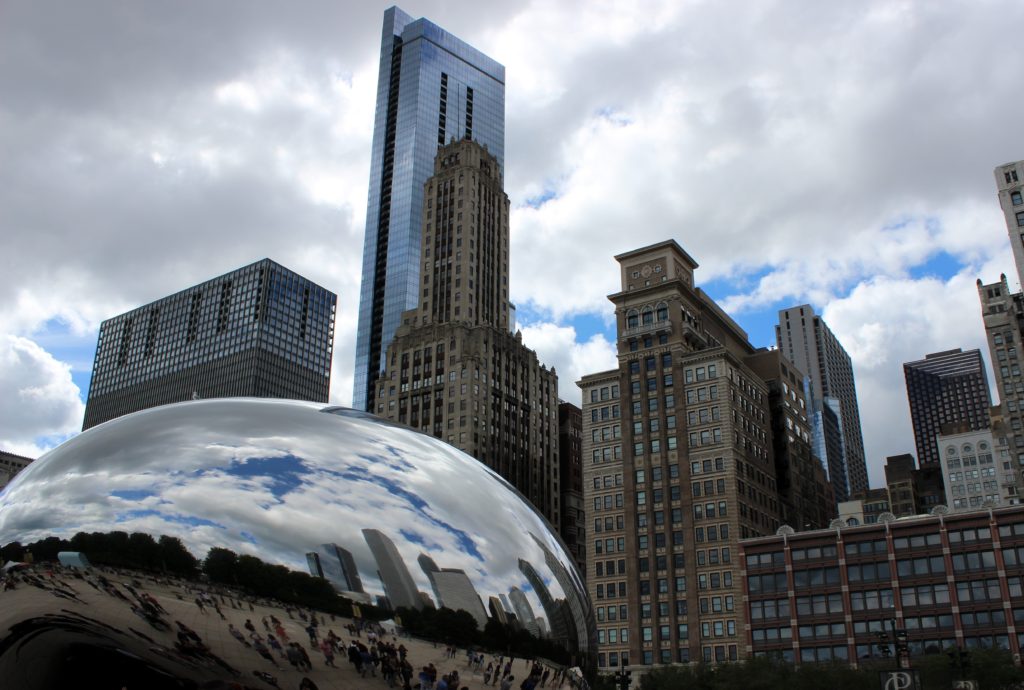 Millennium Park
Perhaps the most iconic centerpiece of modern Chicago, this 24.5-acre park is admission-free, conveniently located near The Loop (the city's bustling downtown district), and popular for its live music events, public art displays, and Cloud Gate, the famous bean-shaped mirror.
Concerts and festivals are held at the centrally-located Jay Pritzker Pavilion, and other attractions include the peaceful Lurie Garden, an ice rink, and outdoor dining venue Park Grill. Millennium Park also has walkways that conveniently connect to other attractions like Maggie Daley Park and the Art Institute of Chicago.
The Sky Deck
The Sky Deck of Sears Tower, one of the tallest buildings in North America, is unsurprisingly also one of Chicago's most visited attractions, attracting one million tourists every year.
The Sky Deck's rather disconcerting all-glass viewing box means that fearless visitors can quite literally get a top-down, panoramic view of the Chicago skyline. And if the weather permits, visitors can see three additional states from way up there: Michigan, Indiana, and Wisconsin.
Navy Pier
The city's historic pier will likely be a hit with the kids, who may be drawn to the pier's Centennial Ferris Wheel, mini golf course, and other attractions.
The pier also boasts picturesque views, museums, an IMAX theater, and various eateries and performing arts venues.
Lincoln Park Zoo
The Lincoln Park Zoo is known for being one of the few admission-free major zoos in the USA. The 35-acre park houses around 1,200 animals from around the world, and the zoo keeps things fresh with special seasonal events and programs.
Get cultured at one of the city's many museums
Chicago has no shortage of museums dedicated to art, science, and history. The most popular of these, the Art Institute of Chicago, has the distinction of being the second-largest in the country. The museum features famous pieces like Grant Woods' American Gothic and works from other well-known artists like Picasso, Dali, Van Gogh, and Monet.
Other notable museums include the aesthetic Chicago Cultural Center; The Field Museum, a natural history museum with artifacts ranging from dinosaur skeletons to gemstones to Egyptian mummies; the National Museum of Mexican Art; and the Museum of Science and Industry, where interactive, thoughtfully-designed exhibits bring history and science together to make learning about both subjects a blast.
Fill up on delicious Chicago-style cuisine
Chicago is famous for its "Chicago-style" interpretations of classic American dishes such as burgers, hot dogs, sausage, sandwiches, seafood, and especially pizza, with famous uniquely-Chicago renditions like deep dish pizza and pizza puffs.
Die-hard foodies might also know that Chicago hosts one of the biggest outdoor food festivals, The Taste Of Chicago, which offers a sampling of the city's very best dishes. Upwards of one million people visit the event annually.
And, let's not forget the sports bars which help reinforce Chicago's reputation as a great sports town!
This is just a small sampling of what's available to do for a day trip in Chicago. If you're not into the touristy stuff and want to go off the beaten path, there are still endless activities to do, foods to try, and places to see in the expansive city of Chicago.